How Much Do Vending Machines Make? A Comprehensive Guide To Vending Machine Profits
According to a study by Vending Market Watch, the average income per vending machine in the United States is approximately $76 per week or $3,952 per year. However, the fee may vary based on the factors listed above.
 Vending machines are important in public places, from offices and airports to schools and supermarkets. Although they may seem small, they can be a real asset to businesses and employers. In this article, we will explore the factors that affect the profitability of a vending machine and provide information on how many vending machines there are on average.
Are Vending Machines Profitable?
Vending machines have been around for many years and are a popular way for people to purchase food, drinks, and other products. Vending machines can be a good option for entrepreneurs looking to start a business. However, the question remains: are vending machines necessary? In this article, we'll find the answer to that question and give you all the information you need to make an informed decision.
 

What Is A Vending Machine?
A vending machine is a self-service machine that dispenses products to customers. It works by accepting cash or other forms of payment, such as credit cards or phone payments, and then delivering the selected product. Vending machines are everywhere, including schools, hospitals, offices, and public spaces.
The Source Of Income From The Vending Machine
Vending machines sell products to consumers. The Profit on each transaction is the difference between the cost of the product and the price at which it was sold. For example, if a vending machine operator buys a soft drink for $0.50 and sells it for $1.50, he makes $1.00 in Profit on that sale.
 

The Average Income Of Vending Machines
Are you considering investing in vending machines and wondering how much profit they can generate? Or maybe you already have some vending machines and want to know if their performance aligns with business standards? In any case, you've come to the right place. This article will look at overall vending machine revenue and what can affect it.
 First, it's important to understand that the revenue generated by vending machines can vary greatly due to many factors. The location of the vending machines, the type of products sold, the number of machines in operation, and the quality of the machines themselves are all important considerations.
 A good vending machine can generate between $50 and $300 per week in revenue. A vending machine can generate between $2,400 and $14,400 in annual revenue. Of course, these numbers can vary depending on the abovementioned reasons.
 For example, vending machines in high-traffic areas like airports, train stations, and shopping malls are more profitable. Machines that dispense popular products, such as food, drinks, and cigarettes, generate more revenue than machines that dispense less popular products.
The Profit Formula For Vending Machine Business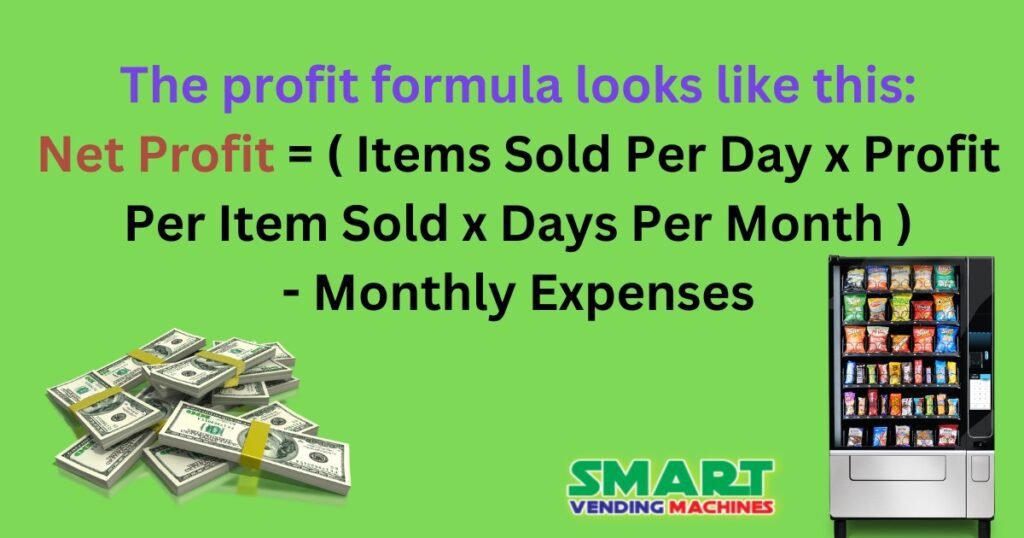 For example, let's assume the following:
Every day, 50 items are sold.

Profit of $0.60 per item sold Available 26 days per month

Total monthly expenses of $250
Your net profit would be as follows:
(50 x $0.60 x 26)- $250 = Net Profit. 
Monthly net profit = $530
The figures used above are fairly accurate averages. But let's dig a little deeper into each of these key figures.
Another important thing to consider is the number of machines that are working. The more machines you have, the more money you can earn. However, it is important to understand that operating the machines is difficult and requires a lot of time and effort.
The quality of the machines can affect your income. Old or faulty machines can malfunction and turn customers away, resulting in lost revenue. On the other hand, machines that are well maintained and stocked with new products are better.
Ultimately, vending machines can be a valuable asset, but their profitability can vary due to many factors. A good vending machine can generate between $50 and $300 per week in revenue. However, the machine's location, the type of products sold, the number of machines in operation, and the quality of the machines themselves can affect your revenue.
Factors Affecting Income For Vending Machines
The low startup cost and maintenance costs make automata a profitable business. However, that doesn't mean you won't be paying fees along the way. You may have some monthly expenses.
How Much Do vending Machines Cost
Whether buying or leasing a car, you must have your finances ready when investing in one. Prices vary depending on the type of machine you want. Vending machines in Ireland cost between €3,000 and €5,000.
Rent A Property Or Have A Business
If you rent a place for your machine, you can expect to pay to install it. On average, the lot owner will pay a fixed fee or some of its income. So you have to choose the best place. Otherwise, you may have difficulty keeping up with the associated costs.
 

Inventory
Another important factor for vending machines is the type of products you sell. You must reserve without buying. For example, a dealer with 23 slots can place different items at different prices. Then learn which products are selling best and adjust your values from there.
 

Business License
Like any business, you must register your vending machine business. More information can be found at your local government office. This way, you can get legal, create automation, and earn passive income.
Starting A Profitable Business For Vending Machine
Investing in vending machines is a great addition to your income stream. If you are ready to own one, you can contact smart vending machines. ., to find a host of options. We have different types of machines that fit every preference. Also, we can offer a fully managed venture for you. Talk to us today!
Where To Get A Vending Machine For Business
The biggest expense in a vending machine business is the vending machine itself. There are several ways to get started in the vending business, each with advantages and disadvantages depending on your finances.
Buy A New Vending Machine
As mentioned above, the costs to purchase a vending machine vary widely depending on the type of vending machine you need. Standard vending machines that sell basic prepackaged foods cost between $1,500 and $5,000, while specialized vending machines that serve hot food can cost as much as $20,000. Vending machine manufacturers can offer financing to help those with little money get started.
Vending machines are available for purchase from the manufacturers described below. Please note that prices are not published online; you must contact the company directly to speak with a sales representative.
Crane Merchandising Systems
Types Of Machines Sold:
Hot and cold beverages, prepackaged snacks, and prepackaged deli items such as hot dogs and sandwiches. Customizable graphics and revolving shelves are available on select units.
Royal Machines
Types Of Machines Sold:
Cold drink vending machines and upright freezers
Seaga
Types Of Machines Sold:
Hot and cold beverages, prepackaged snacks, glass door refrigerators, coin counters, and industrial vending machines that dispense items such as office or medical supplies.
USI
Types Of Machines Sold:
 Hot and cold drinks, prepackaged snacks and refrigerated and frozen foods. Custom branding and digital interfaces are available on select units.
Vendo Sanden
Types Of Machines Sold:
Cold drinks and packaged snacks
Buying A Used Vending Machine
Used machines can often be found for less than $1,000, but exact prices will depend on the age of the machine, the type of machine, and its condition. Special financing is not available when buying pre-owned.
Some Places To Buy Used Vending Machines Include:
Buy A Vending Machine Route
Another option for entering the vending industry is purchasing an established business. This takes the hassle out of finding locations and negotiating deals with landlords. It also lets you view current machine sales figures to ensure locations produce adequate returns. However, this option also requires a larger initial investment than purchasing a vending machine.
Purchasing a successful route of vending machines will be expensive, probably costing several times the route's annual income. However, proven locations and established operating agreements can make buying an existing vending business less risky.
In addition to using local resources like your local newspaper, there are several sites for those looking to buy existing vending machine businesses:
Leasing A Vending Machine
Another option to start in the vending sector is to rent a vending machine. Under a lease, you would agree to pay the vending machine owner a fixed fee for using their vending machines. A lease allows you to keep your sales team up to date and requires less money upfront. However, leasing a vending machine can lead to increased total costs in the long run since you will always pay for your machine.
Monthly lease costs for new vending machines that sell pre-packaged cold drinks or snacks typically range from $100 to $150 per month. However, exact costs vary depending on the vending machine model.
Vending Machine Manufacturers May Offer Leasing Options, Along With The Following Retailers:
Read more: Where To Purchase Vending Machines
Are Vending Machines A Good Investment?
Purchasing a vending machine can cost anywhere from $1,000 for a used model to $20,000 for a specialized unit that serves fresh or heated food. You can also lease a machine for around $100-$150 per month. Because there is such a broad range of upfront costs, plus maintenance, it could take anywhere from a few months to a few years to recoup your startup investment and earn a profit.
Generally, vending machine profit margins are low. According to the National Automatic Merchandising Association, on average, a small vending machine business (classified as a business with under $2 million in annual revenue) has a net profit margin of 2.4%. For every $1 paid into the vending machine, the owner receives 2.4 cents after accounting for expenses such as the costs to reload and service the machine. (This percentage was reported in 2011, but we could not find an updated statistic.)
However, you can improve your margins by servicing the machines yourself (rather than hiring staff), finding high-traffic locations, and stocking higher-margin products such as fresh food or specialized drinks. Considering the above considerations, a vending machine can be a good passive income option.
How Do Vending Machines Work?
Before we can figure out how much a vending machine makes, we need to understand how it works, especially if you want to start a vending machine business.
Choosing What To Stock in Machine
The company that operates the vending machine stocks the machines. Typically, each machine falls into one of the following categories:
Drinks (soda, water, juice) (soda, water, juice)

Snacks that are unhealthy (bags of chips, candy)

Snacks that are healthy (fruits and items like what this site offers)

Complete meals (sandwiches, cups of noodles, rice bowls).
Payment Acceptance
The machine can now accept money after it has been stocked. The machine measures the size of each coin, scans dollar bills with a laser, and may accept credit and debit cards via a reader similar to those found in retail stores.
Once the payment method is accepted, the person will press the button for the desired item, and an electronic code is sent through the machine, signaling the coil to move the item forward.
Collecting Money And Restocking The Vending Machine
Each vending machine will have a predetermined schedule for when money is collected and the machine is restocked. This is determined by two factors:
How Much Traffic Does That Machine Get?
When a machine receives a high volume of traffic, it must be cleared of money and restocked much more frequently than a machine that receives little traffic. The last thing a company wants is for a highly profitable machine to be empty, which means they're losing money.
The second consideration is whether or not the food is perishable. Vending machine food and drinks are highly processed and won't last long. However, some items, such as milk, fruits, and sandwiches, can spoil.
You must ensure that any perishable foods are removed from the machine once they have reached their expiration date. Otherwise, you'll have to deal with a lot of irate customers.
Who Profits Off Of Vending Machines?
Profits are generated by vending machines for vending machine companies. However, some of this money is used to rent a space. So, if a company allows a vending machine to operate in its building, the vending machine company must pay the company to place its machine there.
Places with a lot of foot traffic will probably charge more per machine placement than places with little foot traffic.
How Do Vending Machines Work?
Vending machines operate by using a system of sensors and mechanical components to dispense products to consumers. The basic components of a vending machine include a coin slot or other payment system, a selection of products, and a dispenser mechanism. When consumers insert money or a payment card, they can select the product they want, and the vending machine dispenses it.
The Pros And Cons Of Starting A Profitable Business
Like any business venture, there are pros and cons to starting a vending machine business. Here are some of the advantages and disadvantages to consider For Business:
Pros:
Low startup costs: Compared to other types of businesses, starting a vending machine business is relatively inexpensive.

Passive income: Once a vending machine is set up, it can generate income 24/7 without much intervention.

Flexibility: Vending machine operators can set their hours and choose the locations where they want to place their machines.

Low overhead: Vending machines require very little maintenance, and there are no ongoing rent or utility costs.
Cons:
Limited income potential: While vending machines can generate a steady income, the growth potential is limited.

High competition: Vending machines are a popular business option, and there can be a lot of competition in high-traffic areas.

Maintenance and stocking: While vending machines require very little maintenance, they do need to be stocked regularly, which can be time-consuming and expensive.
Security concerns: Vending machines can be vulnerable to theft and vandalism, which can be costly.
How Much Does a Vending Machine Cost?
The cost of a vending machine can vary depending on the type of machine and the products it dispenses. A basic snack vending machine can cost around $3,000 to $5,000, while a more advanced machine that dispenses drinks, snacks, and other products can cost upwards of $10,000 or more.
In addition to the cost of the machine itself, there are other expenses to consider, such as stocking the machine, maintaining it, and marketing your business.
How Much Money Can You Make With A Vending Machine Business?
The amount of money you can make with a vending machine business depends on several factors, including the location of your machines, the types of products you offer, and the demand for those products.
According to some estimates, a well-placed vending machine can generate between $50 and $100 per week, while a high-traffic location could bring in several hundred dollars per week. However, these estimates can vary widely depending on the location and other factors.
Factors That Can Affect the Profitability Of Your Vending Machine Business
Several factors can affect the profitability of your vending machine business for sale. Here are some of the
Strategies To Increase Revenue from Vending Machines
One strategy to increase revenue is continually improving the selection of vending machines' products. Manufacturers can entice customers to buy more and increase profits by offering new and innovative products.
As mentioned above, location is a significant factor in vending machine profitability. Operators can choose the location by analyzing vehicle types and determining the best location for the machines.
Implement A Cashless Payment
Another way to increase the revenue of the marketing machine is by implementing free options. Customers can increase sales this way.
How Much Do Vending Machines Make A Month
Aside from February, every month contains 30 or 31 days. However, depending on the location of your vending machine, it may not be available every 30-31 days. If your vending machine is in a facility/office/building that is only open on weekdays, you will only make sales 22 days per month.
If it's in a building that's open six days a week (all but Sunday), you'll make sales 26 days per month.
Here's a handy table for quick reference…
| | |
| --- | --- |
| Days Open Per Week | Days Open Per Month |
| 5 | 21.7 |
| 6 | 26.1 |
| 7 | 30.4 |
The monthly payment to Klarna will be your largest monthly expense (at least if you finance your vending machine purchase). However, keep in mind that this expense will be completely eliminated after 24 or 36 months. Once that occurs, you will receive a nice $125-160 raise each month!
OTHER EXPENSES INCLUDE:
"Rent" from property/business owner, ie: a) $50-100 per month, or b) about 5-10% of income for low-cost electronics or 15-20% for high-voltage appliances (ie refrigerators)
Vending Machine Software
Credit card transaction fees (if your how much is a vending machine permit has a credit card reader, it should be available today)
Gas (go to/from your vending machine)
Occasional Repairs And Maintenance
Note: This list of expenses does not include the cost of the actual products you sell (ie soft drinks, snacks, clothing, or other products) as those costs are listed in the "Profit on sale" section above.
In general, expect your monthly expenses to be around $250 while you pay for your vending machine. It then drops to $125-160 when your machine is paid off at the 24 or 36-month mark.
So… How Much Do Vending Machines Make?
The bottom line is $300 – $600 per vending machine. But if $300 – $600 a month isn't enough to make you happy, multiply that number by 2 or 5 or 10 or 20! Many clients have machine sales of 10 to 20 or more machines, and are very good at living full time (with a large monthly increase when they pay for one of their machines).
Frequently Asked Questions
Q: How Much Does It Cost To Buy A Vending Machine?
A: The cost of a vending machine varies depending on the type of machine and its features. For example, a basic soda vending machine may cost around $3,000, while a more advanced machine that dispenses snacks, beverages, and other products can cost upwards of $10,000.
Q: How Much Profit Can A Vending Machine Make In A Day?
A: The amount of profit a vending machine can make daily depends on many factors, including its location, the products it offers, and its maintenance costs. However, on average, a vending machine can make anywhere from $20 to $100 daily.
Q: Do Vending Machine Operators Need A License?
A: The requirements for vending machine operators vary by state and locality. In many cases, operators must obtain a business license and adhere to specific food safety and sanitation regulations.
Vending machines can be a profitable business venture for those willing to try to select the right products, maintain the machines properly, and optimize their placement. By understanding the factors that impact vending machine profits and implementing strategies to maximize revenue, operators can increase their chances of success. While profits vary widely, the average revenue per vending machine is around $76 per week, which can add up to a significant sum over time.